Shop Now. Wear Now. Pay it in 4.
PAY IN 4 EASY PAYMENTS, INTEREST-FREE
Four payments are automatically collected bi-weekly from your debit or credit card. You get all the "closure" of a full upfront payment, but with the cash-flow benefits of spreading the cost. The total amount charged to your card is no greater than if you simply paid for the entire purchase up front (provided the agreed payment schedule is followed). Pretty great, huh!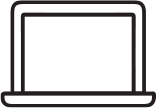 What you need to get started:
- Be at least 18 years of age
- An Australian bank account
- An Australian residential address
1. What is Klarna?+-
Klarna is a global payment solutions provider that works with retailers to provide customers the smoothest online shopping experience. Klarna is in over 205,000 online stores and has more than 85 million users globally. Learn More
2. How do I pay over 4 interest-free instalments?+-
Select 4 interest-free instalments to split your purchase into four equal payments, charged every two weeks beginning at the time your order is confirmed (usually the shipping date). No bills are sent - you can simply sit back, relax, and enjoy your purchase. View complete terms
3. How do automatic payments work?+-
Payments are collected fortnightly from the debit or credit card you provide at the time of purchase. All scheduled payments are communicated to you by email and you can review your purchases by logging in here.
4. Is there a fee to use 4 interest-free instalments?+-
There are no upfront fees when you follow the payment schedule. If you fail to make a payment on time late fees may apply. For more information please review product terms.
5. Will Klarna do a credit check on me?+-
When you choose 4 interest-free instalments, Klarna may order a credit report from a 3rd party. Please review product terms for more information on this.
6. Who can join Klarna's rewards club?+-
Anyone above the age of 18 years old who has the Klarna app can join Klarna's rewards club as a member, for free.
7. How do I earn vibes?+-
You earn vibes when you shop with Klarna. No matter the store. You earn 1 vibe for every $1 spent.
8. Where can I find out more about Klarna's rewards program?+-
To find out more about the perks of joining Klarna's rewards club, click here.
Don't see your question here? Check out Klarna's full FAQ Page. You can reach Klarna anytime here or by downloading the Klarna app.